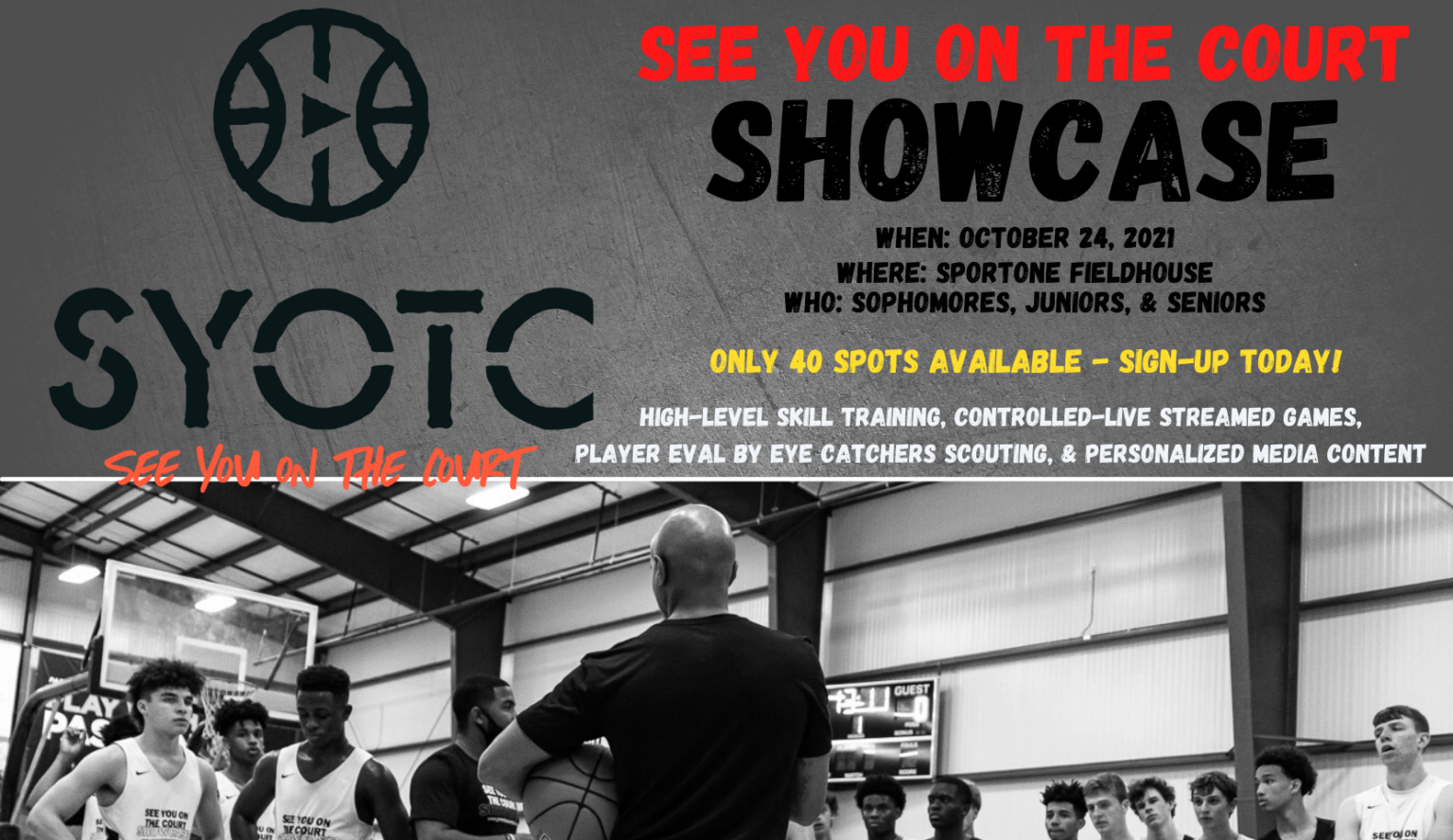 See You on the Court Showcase
Location: Sport One Parkview Fieldhouse - 3946 Ice Way, Fort Wayne IN
Date: Oct 24, 2021 - Oct 24, 2021
Team Registration: 150.00
Age(s)/Division(s): 10th Grade, 11th Grade, & 12th Grade
See You on the Court Showcase
October 24, 2021
9:00am – 10:00am Registration
10:00am – 2:00pm Showcase
$150.00 Registration Fee
See You on the Court Showcase
October 24, 2021
9:00am – 10:00am Registration
10:00am – 2:00pm Showcase
$150.00 Registration Fee
WHAT IS THE SYOTC SHOWCASE?
Gym Rats Basketball has created a new series of individual showcase events that emphasizes foundational skill instruction while offering competitive games and media tools to help players increase their visibility to college coaches and scouts. The See You on the Court Showcase is designed to offer high-quality basketball content.
WHAT MAKES US DIFFERENT?
We understand the importance of high-quality media content for athletes. Each athlete will receive a digital download of the live stream and will have the ability to send that to college coaches and manipulate it as they see fit. Our goal is to provide a unique experience unlike any other individual showcase.
Gym Rats Basketball has a "Stay to Play" policy for all tournaments in Fort Wayne. This requires all participants (teams and guests) in need of hotel accommodations must make their reservations through My TBD Sports. This is a complimentary service and makes securing your rooms quick and easy. It is required that teams book their housing through this service to ensure placement in this tournament.
Team and individual reservations can be made online or by phone, as follows:
CLICK HERE
My TBD Sports
515-207-4910
Toll Free – 855-TEAMTVL
Email: teams@TBDtravelservices.com
Sport One Parkview Fieldhouse - 3946 Ice Way, Fort Wayne IN
The following documents can be viewed, printed, or downloaded. Check back daily for updates and changes to the schedule before the event starts.